We're so glad you stopped by. Here you will find all things primitive and handmade.
From americana, birdhouses, cards, candles, cloth dolls, furniture, gameboards, graphics
hooked rugs, lotions, make do's, patterns, penny rugs, printables, samplers
scents, soaps, stitcheries, quilt bears, wood signs and everything in between.
You never know what you might find, so sit back and enjoy!
You're bound to see a handmade or two you just can't live without.
We are a directory of shops and no sales are made from this site.
To make a purschase please click on the shop link and deal directly with the shop owner.
Thanks so much for stopping by and enjoy your visit.


In The Spotlight
Kittredge Mercantile

~OUR NEWEST MEMBERS ~
All My Love Crafts
Wandering Whimsies
The Wood Works
Colonial Thymes
Horizon Hill Crafts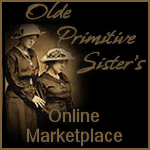 DIRECTORIES, MALLS, MARKETS AND MARKETPLACES
we are proud to be a member of.

Country Creek Connection
Country Crafts Catalog
Primitive Crossroads